Open jewelry store – what to look for?
To open a small jewelry store and thus become his own boss is a dream for many. But when opening a jewelry business should pay attention to a few things. What are the most important points? And where is it worth opening a store?
---
Plan the logistics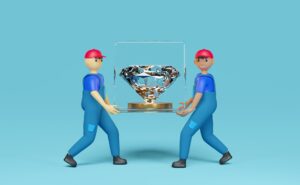 A jewelry store needs to be supplied so that goods can be sold. To reduce costs, it is worthwhile to purchase larger quantities. These can be ordered, for example, through wholesale jewelry supplies.
Choosing the right business setup for a jewelry store
There are various ways in which a jewelry business can be founded, for example as a sole proprietorship, GmbH (limited liability company) or UG (haftungsbeschränkt). Each form of incorporation has its advantages and disadvantages. As a sole proprietor, you are solely responsible for the business and bear the full risk. With a GmbH or UG (limited liability company), there is no personal liability, but there are also more bureaucratic hurdles and higher costs. It is important to obtain detailed information before founding a company and, if necessary, to seek support from experts. In this way, the appropriate form of incorporation can be chosen.
Important aspects to consider when choosing a location
The choice of location is crucial for a business. A well-chosen location can make the difference between success and failure. There are some important factors that should be considered when choosing a location, such as location, target audience and competition. A good location is essential to achieve high customer frequency. For example, a good customer frequency is achieved near shopping malls, pedestrian areas or other busy places. It is also important to know the target audience and choose the location accordingly. If the store specializes in high-end jewelry, the location should be in a more affluent area. In addition, the competition should also be considered. Close proximity to other jewelry stores should be avoided.
Plan investments in the store and equipment
Not only the selection of goods, but also the equipment of the store is important for success, after all, customers should feel comfortable there. Therefore, an investment in the store and the equipment is inevitable. Depending on the type of jewelry, the ambience of the store itself should also be adjusted. The store's furnishings and decorations should appeal to customers and create a pleasant atmosphere. Technical equipment such as cash register systems and security systems must also be considered, especially if high-end jewelry is to be sold. Spending on the store and equipment is a long-term investment in the business and can pay off in the long run.
Source:
AntonioDiaz – stock.adobe.com
sirawut – stock.adobe.com